Create and track to-dos and key milestones.
Create tasks and assign owners and due dates. Attach relevant documents to tasks, split tasks into more specific subtasks, and comment on tasks, all without leaving the secure and privileged environment. With Brightflag, you'll have more visibility into matter progress than ever before.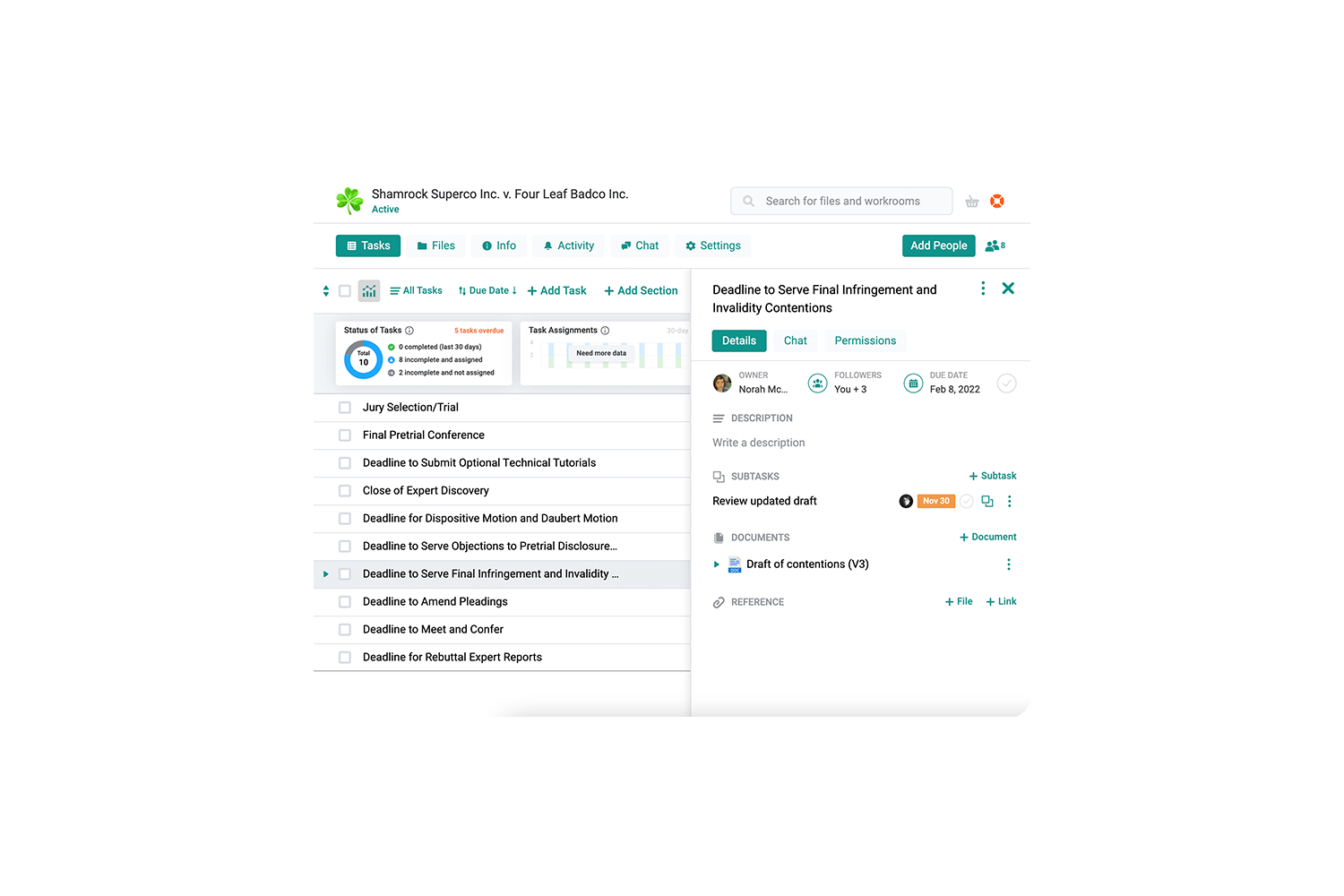 A shared, up-to-date view of who's working on what.
Brightflag gives your corporate legal department a shared view into who's working on what, increasing alignment and reducing unnecessary back and forth. Each user can see the tasks to which he or she is granted access, maintaining privilege, and the calendar can be filtered by matter or workroom.
Never miss a due date or key milestone again.
Brightflag notifies task owners and followers when a due date or key milestone is approaching, both via email and within the application itself, ensuring important actions are completed in a timely manner. Managers can also see upcoming due dates, providing an additional layer of visibility and oversight.
Save time and increase consistency with reusable task lists.
Using Brightflag, create best practice playbooks including the tasks, workflows, informational resources, document templates, and organizational structures proven to deliver results. Once created, anyone can use a template with the click of a button, maximizing reuse of knowledge and consistency of work.
Works well with the tools you already use.
Brightflag integrates out of the box with Microsoft Outlook and Google Calendar, so you can view task due dates and key milestones without leaving your calendar. Tasks can be added selectively, so that only the most important due dates and key milestones appear on your personal calendar.
Ready to speak to an expert?
We'll serve as your trusted guide in evaluating Brightflag.